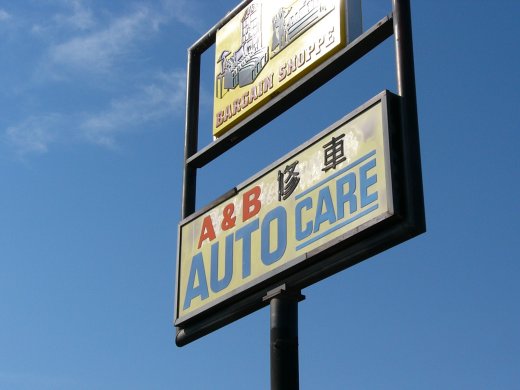 MY FRIENDS, ANDY AND BARBARA KUO. KNOW THAT MAKING THE AMERICAN DREAM COME TRUE IS HARD WORK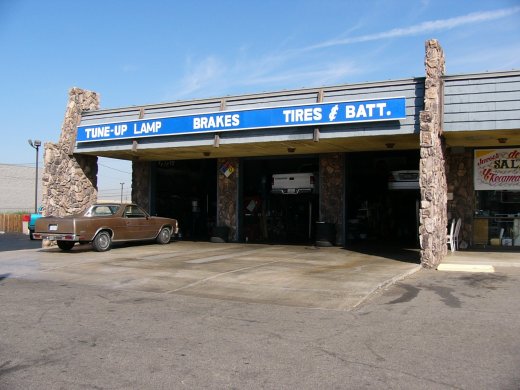 THIS IS WHERE ANDY AND BARBARA SPEND MOST OF THEIR TIME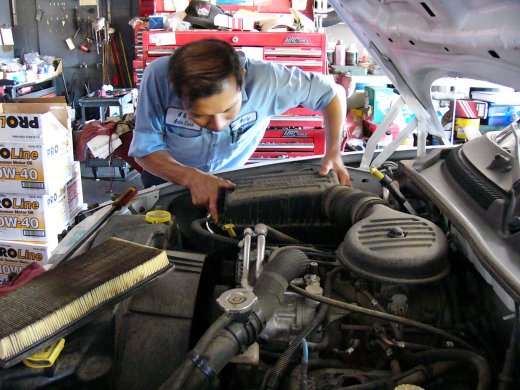 INSTALLING A NEW AIR CLEANER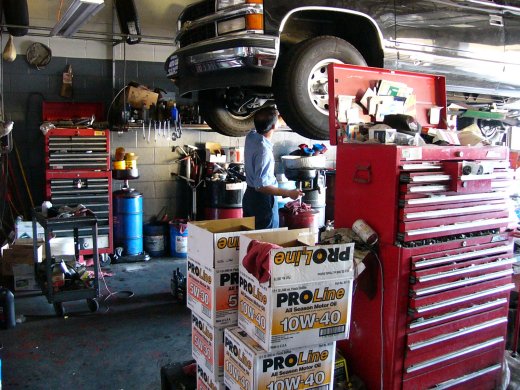 PREPEARING FOR AN OIL CHANGE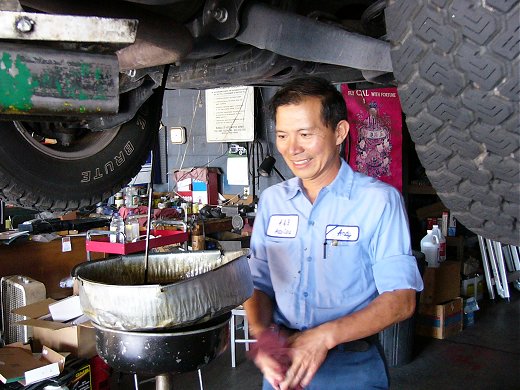 SOMETIMES THE OIL IS VERY HOT!

;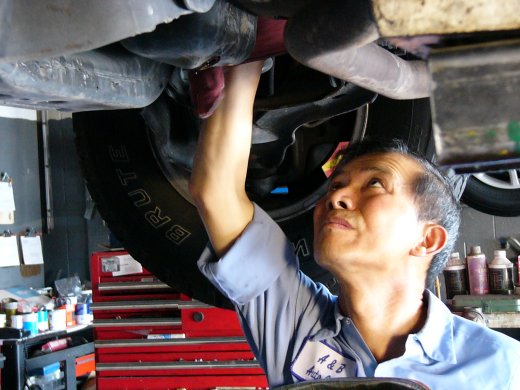 RE-INSTALLING THE OIL PLUG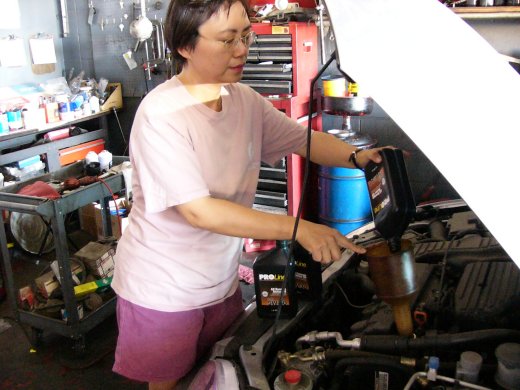 ANDY AND BARBARA WORK AS A TEAM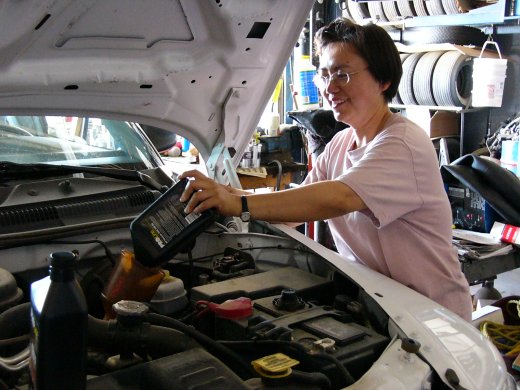 BARBARA REFILLS THE ENGINE WITH OIL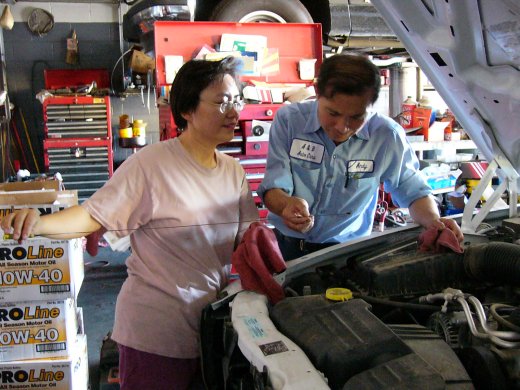 MAKING SURE THE OIL LEVEL IS CORRECT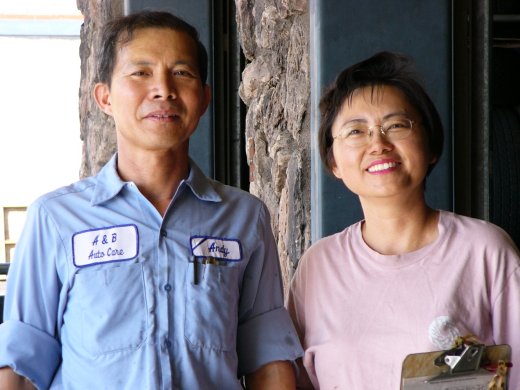 THANK YOU FOR VISITING US!
andy and barbara know that the greatest thing about america is opportunity. many americans have forgotten this or have been taught to believe that is no longer true

UPDATE UPDATE UPDATE UPDATE UPDATE UPDATE UPDATE

A photo, A moment in time captured by Barbara Kuo of her husband and son sums up the many years of hard work and devotion to the pursuit of a dream that brought them to America.

Andy told me, "in Taiwan, if you are farmer then your son would also be a farmer; if you are a fisherman, then so would be your son. Only in America can the son of an auto mechanic be a doctor."

Andy and Barbara know that just coming to America is only part of it. The rest is hard work and devotion to family to prepare the way for a better future for their children that they had for themselves.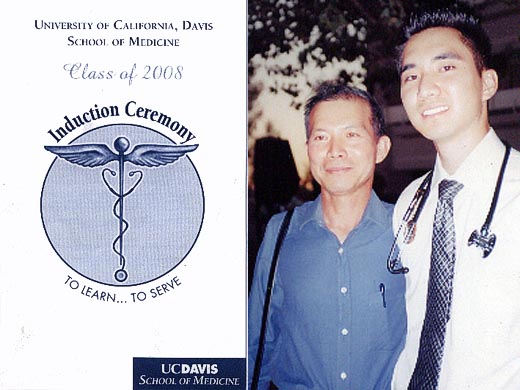 Proud father andy kuo with his son calvin at the university of california school of medicine induction ceremonies. Click HERE to see pictures of Calvin as a 2nd year medical student doing volunteer work at the SHIF center.
UPDATE UPDATE UPDATE UPDATE UPDATE UPDATE UPDATE
Devina Kuo graduated in May of 2005. She is currently spending a 27 month tour of duty with the peace corps in Peru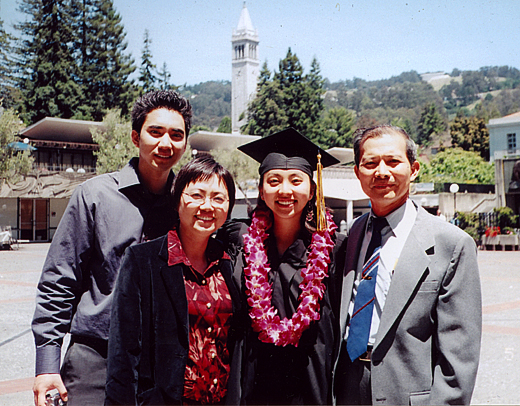 UPDATE UPDATE UPDATE UPDATE UPDATE UPDATE UPDATE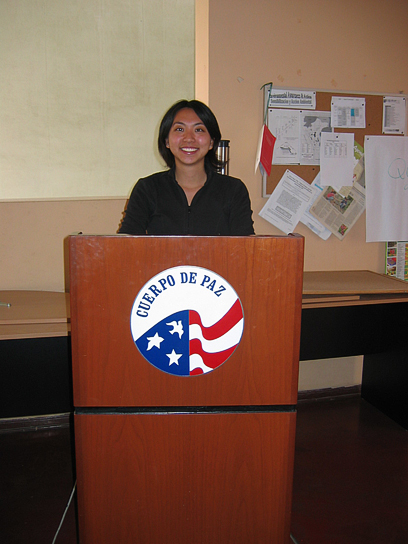 A letter home: Devina displays a winning smile in this photo sent to her family as she celebrates 12 months of service in Peru with the Peace corps.
THE RECENT CHRISTMAS HOLIDAYS BROUGHT BROTHER AND SISTER CALVIN AND DEVINA TOGETHER DURING A VISIT FROM CALVIN IN PERU. CLICK HERE FOR PICTURES
UPDATE UPDATE UPDATE UPDATE UPDATE UPDATE UPDATE
call him doctor
The Kuo Family celebrates a momentous occasion!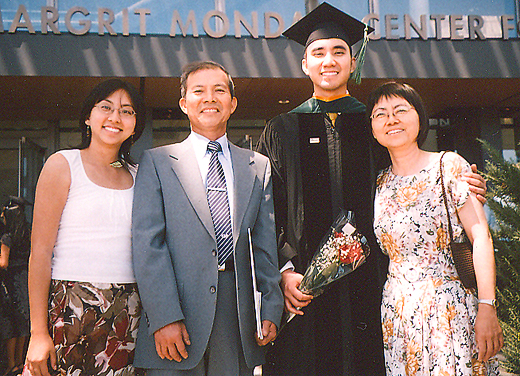 The Kuo family... devina, father Andy with mother Barbara, stand together with their son Calvin kuo, Doctor of orthopedic surgery, at his graduation from University of California at Davis this June 7th, 2008.
The Tzu Chi Foundation is one of the three largest Buddhist organizations in Taiwan (the others being Fo Guang Shan and Dharma Drum Mountain). Tzu Chi was founded by Master Cheng Yen, a nun, on April 14, 1966 in Hualien, Taiwan, after she was inspired by her master and mentor, the late Venerable Master Yin Shun, significant proponent of Humanistic Buddhism with the great expectation of: work for Buddhism and for all sentient beings. The society started as a group of thirty housewives who saved a small amount of money each day, and has grown to have approximately 10 million members worldwide today.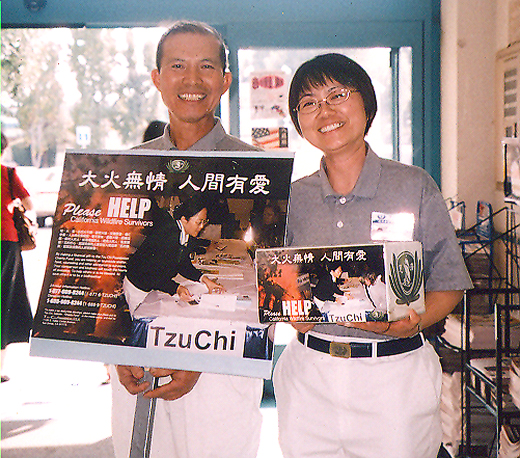 As Members of the Tzu Chi Foundation, Andy and Barbara know that their family extends to all mankind. Here they are seen helping to raise money to help those who were victims of the wildfires that have ravaged Southern California.